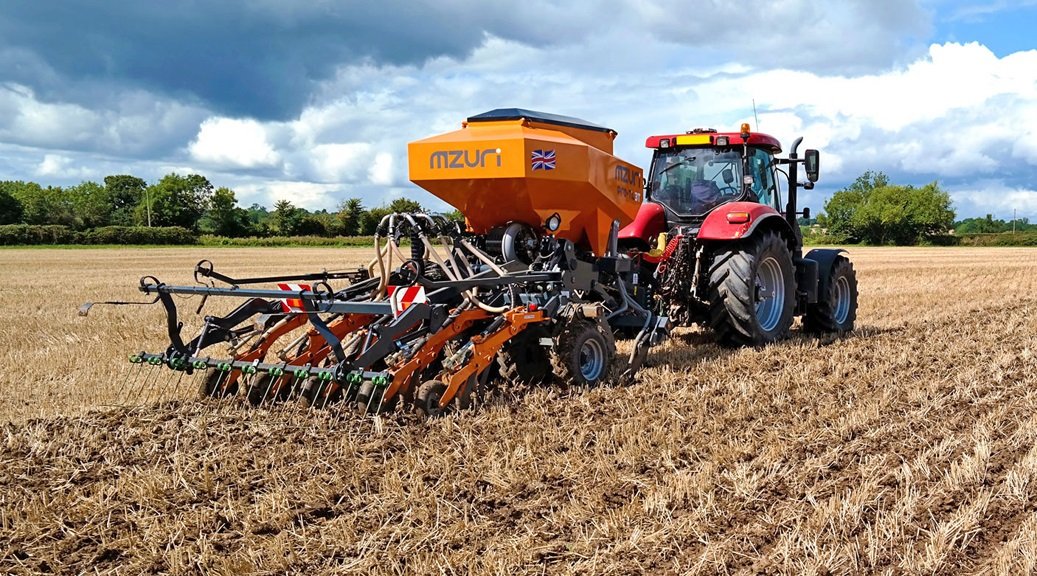 The Mzuri Pro-Til sowing complex treats only narrow strips of soil, introduces fertilizers into the layer of the treated strip, mixing with the soil, and produces hanging seeds at a certain, constant depth, providing ideal conditions for their rapid germination, plant growth and high yields of excellent quality.

The Mzuri Pro-Til technology was developed to simultaneously perform three operations in a single field pass (loosening, fertilizing and sowing) without first preparing the soil (directly on the stubble). Technology allows you to retain and accumulate moisture and reduce the loss of organic matter, which has a beneficial effect on the structure, fertility and productivity of soils. Multiple passes in the case of plow or wasteless machine farming cause excessive soil compaction and have a destructive effect on the biological life of the soil.

The deep-ripper paws and the wheels compacting the loosened soil are alternately arranged in two rows, which allows even with a large number of post-harvest residues to easily pass between them. Due to the hydraulic system, the deep-ripper paws and the sowing coulters of each section exert equal pressure on the soil. This provides a uniform depth of processing and seeding, as well as excellent contact of seeds with the soil.

Computer RDS Artemis has all the functions of management and control of the process of work, including adjustment of the rate of fertilizer application and seeding of seed. Fertilizer application and seeding of seeds.


TECHNICAL SPECIFICATION
| Specification | PRO-TIL3 | PRO-TIL3Т | PRO-TIL4Т | PRO-TIL6Т |
| --- | --- | --- | --- | --- |
| Working width | 3m | 3m | 4m | 6m |
| Transport width | 2,95 m | 2,95 m | 2,8 m | 2,95 m |
| Capacity of the bunker | 1500 l | 3400 l | 3400 l | 4300 l |
| Fertilizer separation / seed% | -- | 40/60 | 40/60 | 40/60 |
| Distance between row taps (cm) | 33,3 | 33,3 | 36,3 | 35 |
| Width of the treated strip (cm) | 12 | 12 | 12 | 12 |
| Row width (cm) | 21,3 | 21,3 | 24,3 | 23 |
| Number of rows | 9 | 9 | 11 | 17 |
| Power consumption (hp) | 180-220 | 180-220 | 220-300 | 300-450 |
| Working speed (km / h) | from 6 to 15 | from 6 to 15 | from 6 to 15 | from 6 to 15 |
| Suspension type | hanging | coupling | coupling | coupling |
| Fan drive | hydraulic | hydraulic | hydraulic | hydraulic |
| seed flow control | standard | standard | standard | standard |
THE MOST IMPORTANT CHARACTERISTICS
1. Dehumidifiers and sowing machines with hydraulic protection against mechanical damage
2. Adjustable seed rate and fertilizer rate
3. single- and double-row coulter for seeding
4. The delivery of seeds and fertilizers is carried out by a hydraulic drive
5. marker passage with hydraulic control
6. seed dispenser
7. Sensory controller for seeding and fertilization, speed control sowing machine RDS Artemis
8. independent swing mechanisms of seed coulters, with hydraulic protection, connected with adjustable clamping device